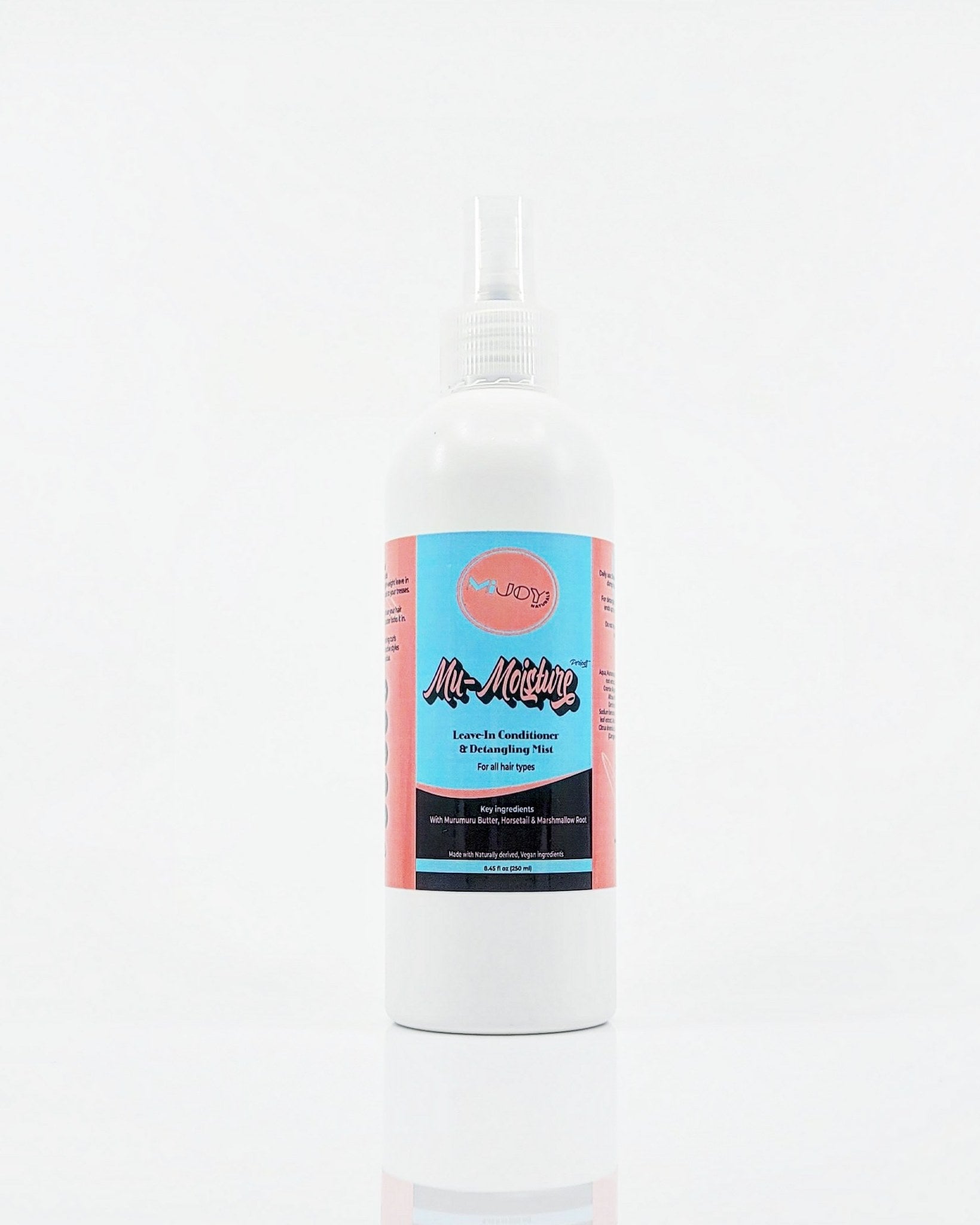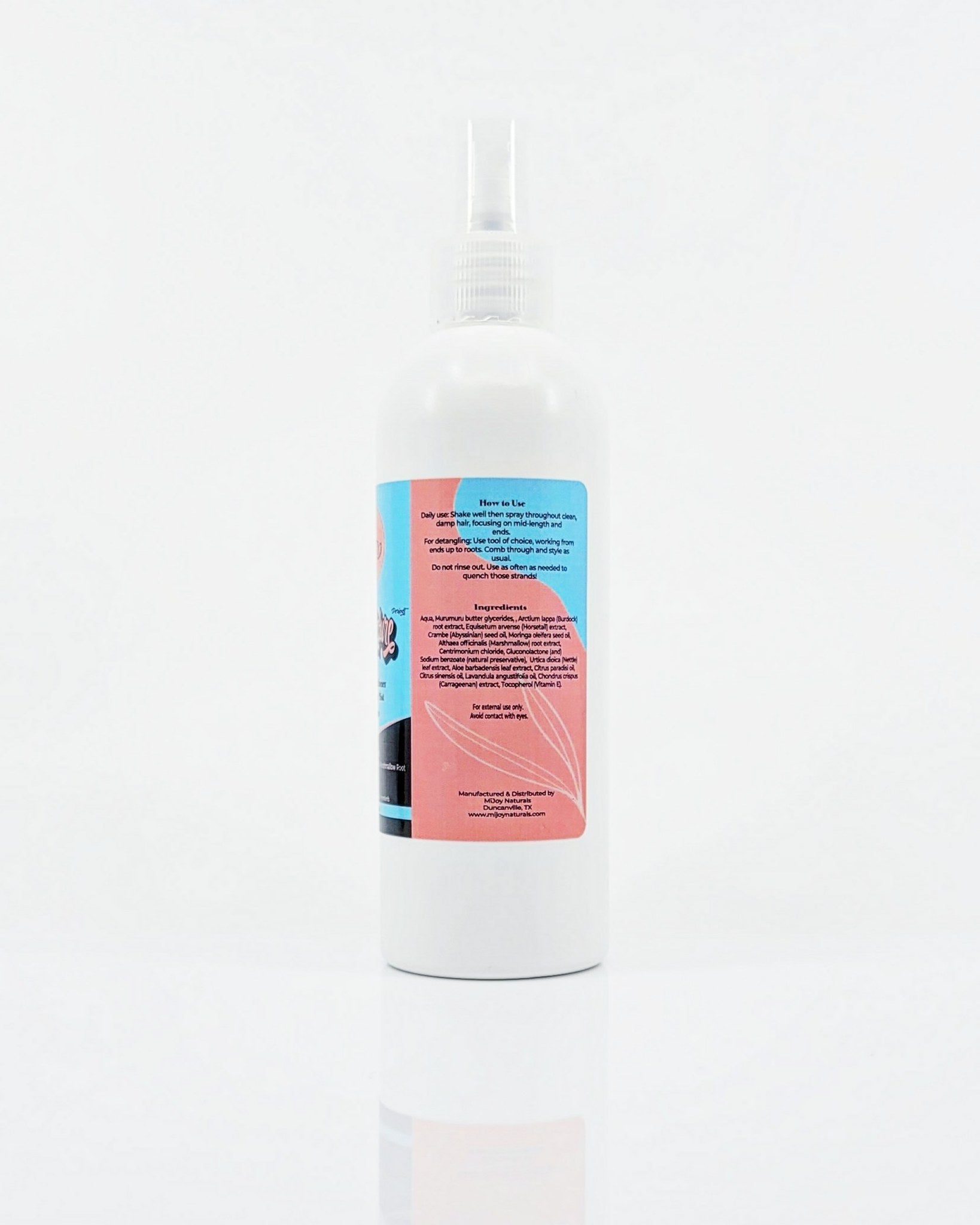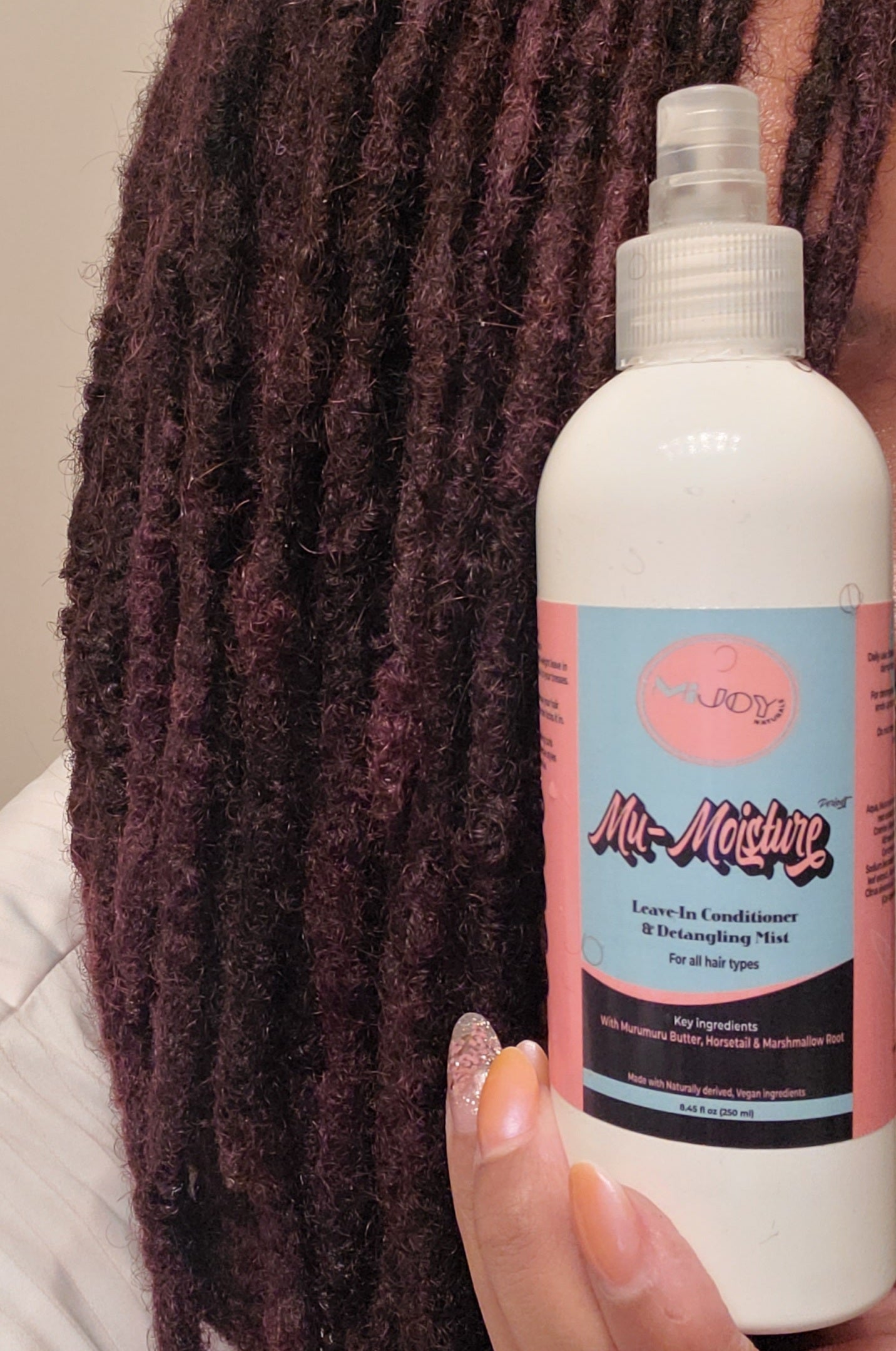 Mu-Moisture, Periodt™ Leave-in Moisture Mist 8.45oz
$21.99
Regular price
$24.99
Subscription • Save
Description

Who it's great for

Key Ingredients

How to Use:

Full Ingredients List
The thirst is Real! Quench those dry strands with Mu-Moisture, Periodt!™
This light-weight leave in mist will bring the life and luster back to your tresses. Hydrating botanical extracts, like burdock root and aloe vera, infuse your hair with moisture.
Able to absorb up to 4x it's weight in water, Murumuru butter penetrates deep into your strands and locks moisture in. The slip-giving benefits of marshmallow root and irish moss will help cut down your detangling time.
And we can't leave out the added benefit of increased hair growth! Nettle leaf and horsetail help fight DHT and increase blood flow to your scalp, boosting growth.
Your locs, kinks and coils will thank you!
Voted the BEST moisturizer for locs

Available in 8.45oz mister
10oz Continuous Sprayer & refills available for purchase separately
This mist is perfect for moisturizing locs & protective styles, such as braids, weaves, twists, without leaving any unwanted residue on your hair.
It is a great lightweight detangling mist for use on kinks, curls and beards.
If you're looking for a light, hydrating spray to refresh your curls.
This leave-in conditioner is perfect to use when styling hair, as a daily moisturizer.
Murumuru butter
A natural, lightweight butter that permeates through your hair shaft quickly, retaining moisture. It leaves your hair soft and smooths your strands to control frizz and defines your curls.
Moringa Seed Oil

Full of beneficial fatty acids that hydrate your hair and smooth your hair cuticles. It also strengthens your hair and balances the pH of your scalp.
Marshmallow root
Provides a slippery coating to your hair, helping prevent single strand knots and making detangling so much easier. It is also soothing to your scalp.
Nettle leaf
Mineral rich leaves nourish your hair follicles, stimulating growth. It is rich in phytonutrients that helps enhance blood flow to your scalp, and blocks DHT.
Horsetail extract
Known as the hair growth herb because it nourishes, hydrates and stimulates circulation in your scalp, and adds luster and shine to your hair.
Sea Moss
Vitamin and mineral rich seaweed that penetrates the hair shaft, infusing it with moisture and strength. It's slippery feel helps detangle hair.
Daily Use: Shake well then spray throughout hair, focusing on mid-length and ends. May be used on damp or dry hair.
For Locs: Spray a light mist on your locs and gently work through with your fingers. May be used daily, as needed, without buildup.
For detangling, on wet or damp hair, apply liberally, use tool of choice, working from ends up to roots. Comb through and style as usual. Do not rinse out. Use as often as needed to quench those strands!
Aqua, Murumuru butter glycerides, Arctium lappa (Burdock root)  extract, Equisetum arvense (Horsetail) extract, Moringa Oleifera Seed Oil, Crambe abyssinica seed Oil, Althaea officinalis (Marshmallow) root extract, Cetrimonium chloride, Gluconolactone (and) Sodium Benzoate (Natural preservative), Urtica dioica (Nettle) leaf extract, Aloe barbadensis leaf extract, Citrus paradisi oil, Citrus sinensis oil, Lavandula angustifolia flower oil, Chondrus Crispus (Carrageenan) Extract, Tocopherol (Vitamin E)
Mu-Moisture, Periodt™ Leave-in Moisture Mist 8.45oz
$21.99
Regular price
$24.99
Shipping
Shipping Policy
We process and ship all orders within 3-5 business days. Orders
placed on holidays will be processed and shipped within 7-10 business
days. If an order is placed after 3pm PST, processing will begin on the
next business day. Once an order begins processing, it cannot be changed
or cancelled.
All US domestic orders are shipped via USPS (United States Postal
Service). Once an order is processed, tracking information will be sent
via email. At this time, we do not offer international shipping.
Incorrect Shipping Information
It is the customer's responsibility to provide correct address
information. We are not responsible for any orders delivered to the
wrong address. If you think you may have provided incorrect address
information, please send an email with the correct address information
to info@mijoynaturals.com within 24 hours of placing your order.
If a package is returned to MiJoy Naturals due to incorrect or
incomplete shipping address information, or if the customer was not
available to receive their order, the customer is responsible for cost
of re-delivery/shipping.
Lost or Stolen Packages
MiJoy Naturals is not responsible for lost or stolen packages that
have a confirmed delivery to the address entered for an order. If
tracking info shows that your package was delivered, and you did not
receive it, we are more than happy to assist you with filing a claim
with USPS.
Damaged Products or Incorrect Orders
If you receive a package with a damaged product, or if you believe
your order may have been processed incorrectly, please contact MiJoy
Naturals by email at info@mijoynaturals.com within 5 days of delivery.
Back ordered items
MiJoy Naturals strives to have all of our readily available for
immediate shipment. Due to our products being made fresh in small
batches, there is a possibility that products may go on back order.  If a
product is back ordered, the product title will display this clearly. 
Upon restock of all items in your order, the full order will immediately
be shipped. 
Best moisuturizer for locs!
I came across this product while Googling random ingredients in an attempt to maybe DIY my own loc spray. I have low porosity hair, and I have interlocks, which means my hair is both extremely dry and prone to buildup. Every product I've ever tried has given me buildup, and those useless rosewater sprays don't do jack all. After trying so many pricey, disappointing loc sprays I was a little apprehensive to give this one a try, but fortunately, I was able to catch it while it was on sale. What's great about this spray is that it gives actual moisture to the hair, not just a damp oiliness that evaporates in an hour. You can feel the difference. Hands down the BEST moisturizer I have ever tried for locs. No hyperbole.
Leave in conditioner!
The title says it all. Great moisturizer periodt! I use the moisturizer to keep my locs hydrated and refreshed.
Just awesome!
This is an awesome leave in for locs. I've had the Mu Moisture for about a month now and use it every wash day as a leave in. It makes my locs soft and hydrated which I have not experienced with any other conditioner/leave in. I also use it throughout the week as a refresher and have not had any build up!! This is a must buy for those seeking a moisture boost.
I love it!
I am honestly in love with this leave-in conditioner! I usually use a heavy cream leave-in conditioner but after trying Mu-Moisture, I think I want to stick with a spray leave-in. It's extremely lightweight and it makes my hair feel moisturized, soft, silky. I was tempted to spray a lot onto my hair but I realized it's completely unnecessary, a little goes a long way. I will most definitely use this leave-in spray on my hair every wash day because I'm just in love with how lightweight it is plus it makes my hair feel and smell good!
Great for protective styles
I absolutely love this spray. I used this on my Knotless braids along with the no shead butter.it kept my braids soft and moisturized. Using this everyday made my take down easier.