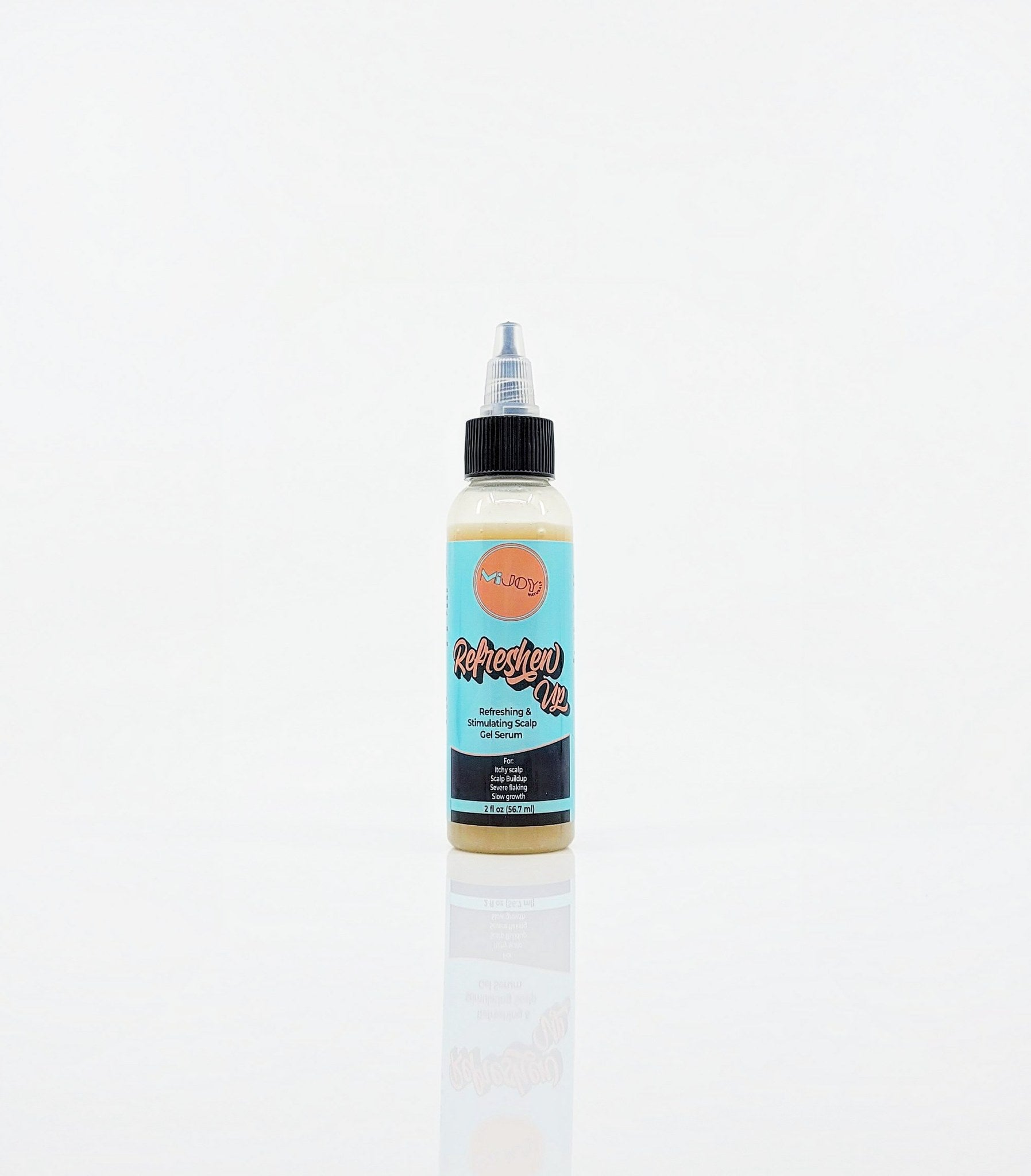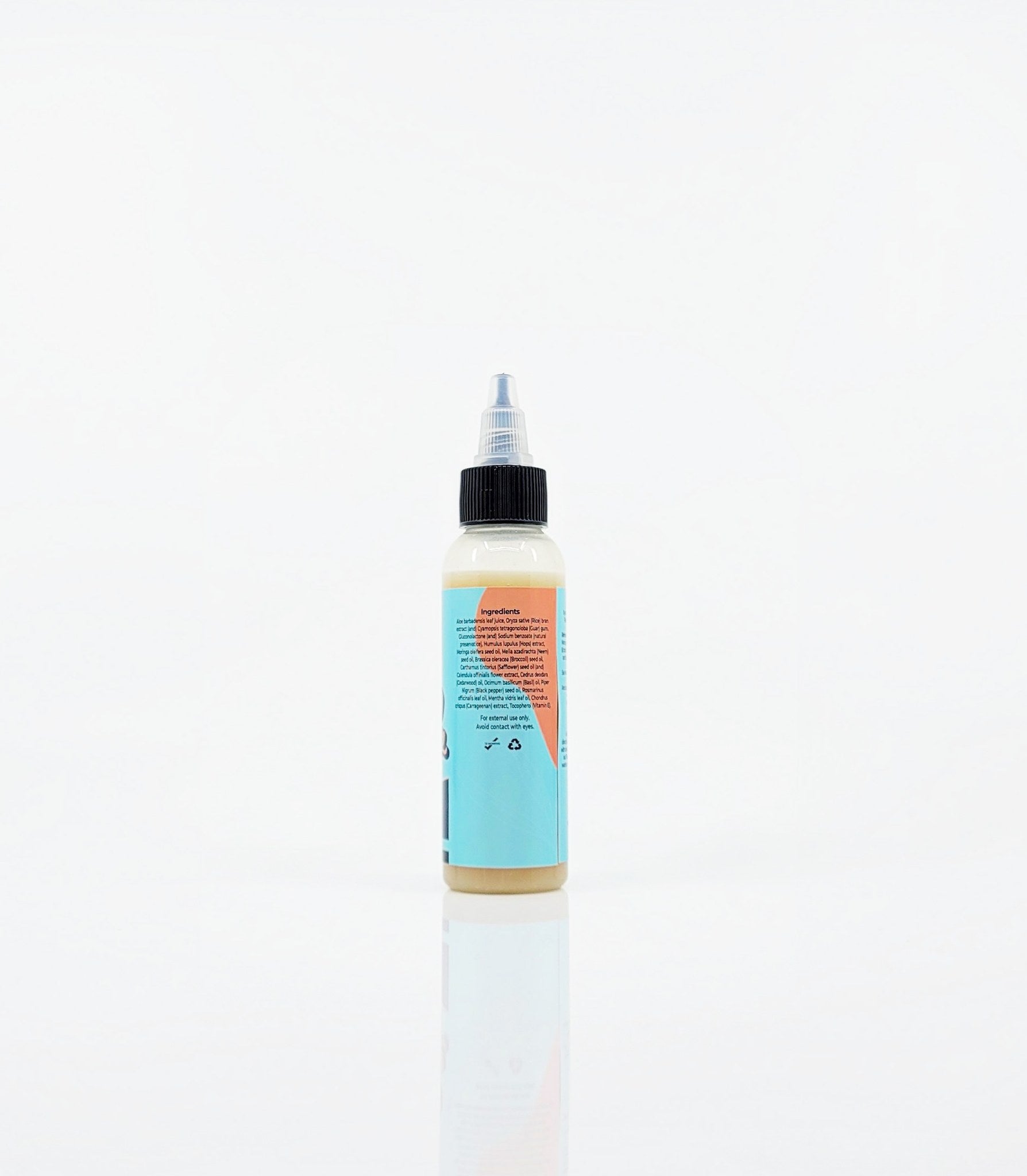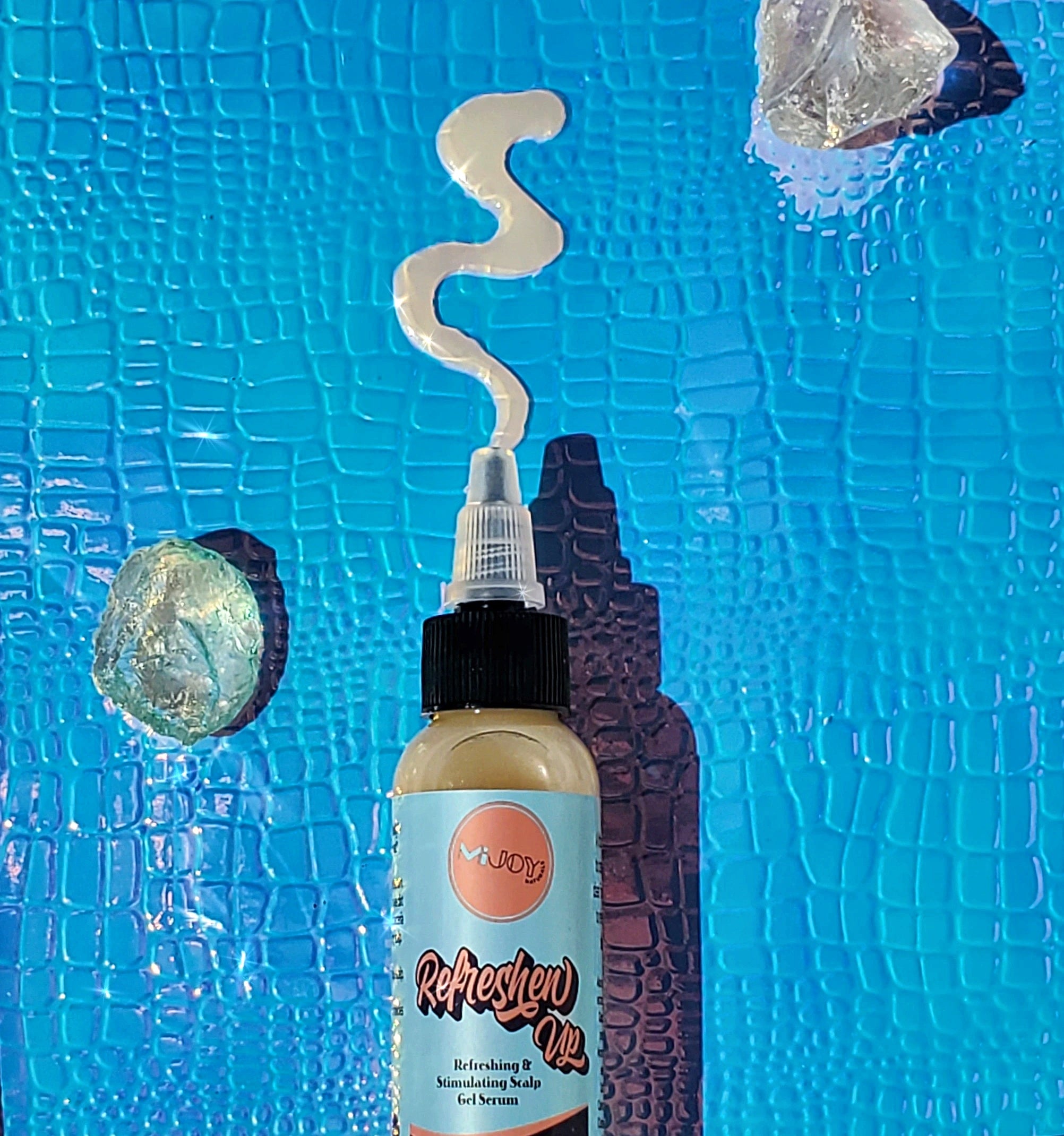 Re-Freshen Up™ Stimulating Growth Serum
Description

Who it's great for

 Key Ingredients

How to Use:

Full Ingredients List
Is your scalp not living its best life? Itching? Smelling? Flaking? Dry? Icky? Can't wash your hair yet?
Formulated with moringa seed oil (which penetrates deeply into the scalp and removes dirt & impurities) and botanical extracts, we've created a unique gel serum that will "ReFreshen Up™" your scalp in between washes.
Neem oil & calendula flower helps eliminate the bacteria and buildup that causes smelly, itchy scalp, all while adding moisture and shine to your roots. It stops itching immediately!
Added bonus alert! One of the side effects of these ingredients: stimulating growth! So whether you're looking to keep your scalp clean & fresh between workouts, put a stop to the itching and dryness, or get those follicles working overtime, this is the serum is for you! Great for protective styles and locs!

Available in 2oz
This scalp treatment is perfect for those who live an active lifestyle/deal with sweat and can't wash their hair every day.
It is a great scalp refresher when wearing locs and protective styles, such as wigs, weaves, braids, twists & cornrows.
If you have a scalp that is itching, flaking, excessively oily or dry,  or have scalp issues such as Seborrheic Dermatitis, this may help address those issues on contact.
Those looking to boost/stimulate hair growth, or slow down hair loss/alopecia.
Moringa Seed Oil

Known as a natural hair cleanser, it lifts dirt out of your hair follicles and helps alleviate dandruff. Bonus points for adding natural shine to your strands.

Rice Bran Oil

Full of ferulic acid, which helps stimulate hair growth. It adds strength to your hair by creating a hard shell-like barrier around your hair cuticle.

Broccoli Seed OIl

A vitamin rich oil high in sulfur, vitamins A, C and calcium, gives a beautiful luster and sheen to your hair strands. It is a natural DHT inhibitor, which is great for combatting hair loss.
Neem Oil

Antibacterial, antifungal and anti-inflammatory properties help curb dandruff and treat hair loss. Detoxifies and improves scalp health, giving hair follicles more strength.
Calendula
Regenerative properties help your hair follicles grow fuller and thicker hair. Hydrates your scalp to help alleviate dry scalp and dandruff.
This a very concentrated product. A little goes a loooong way!
As a scalp refresher: Apply directly to clean, freshly washed scalp and massage with clean fingertips. Do not rinse out. Reapply as needed to refresh scalp between washes.
As a growth aid: Apply directly to clean scalp and massage with fingertips for 2 to 3 minutes to ensure even distribution and stimulation. Repeat 2 to 3 times weekly.
For itchy scalp: Apply directly to itchy areas and massage in with fingertips. Itching should stop immediately.
Aloe barbadensis leaf juice, Oryza sativa (Rice) Bran Extract & Cyamopsis tetragonoloba (Guar) gum, Gluconolactone (and) Sodium benzoate (natural preservative),  Humulus lupulus (Hops) extract, Moringa oleifera seed oil, Melia azadirachta (Neem) seed oil, Brassica Oleracea (Broccoli) seed oil, Carthamus tintorius (Safflower) seed oil (and) Calendula officinalis flower, Cedrus deodara (Cedarwood) oil, Ocimum basilicum (Basil) oil, Piper nigrum (Black pepper) seed oil, Rosmarinus officinalis leaf oil, Mentha vidris leaf oil, Chondrus Crispus (Carrageenan) Extract, Tocopherol (Vitamin E).
Re-Freshen Up™ Stimulating Growth Serum
Shipping
Shipping Policy
We process and ship all orders within 3-5 business days. Orders
placed on holidays will be processed and shipped within 7-10 business
days. If an order is placed after 3pm PST, processing will begin on the
next business day. Once an order begins processing, it cannot be changed
or cancelled.
All US domestic orders are shipped via USPS (United States Postal
Service). Once an order is processed, tracking information will be sent
via email. At this time, we do not offer international shipping.
Incorrect Shipping Information
It is the customer's responsibility to provide correct address
information. We are not responsible for any orders delivered to the
wrong address. If you think you may have provided incorrect address
information, please send an email with the correct address information
to info@mijoynaturals.com within 24 hours of placing your order.
If a package is returned to MiJoy Naturals due to incorrect or
incomplete shipping address information, or if the customer was not
available to receive their order, the customer is responsible for cost
of re-delivery/shipping.
Lost or Stolen Packages
MiJoy Naturals is not responsible for lost or stolen packages that
have a confirmed delivery to the address entered for an order. If
tracking info shows that your package was delivered, and you did not
receive it, we are more than happy to assist you with filing a claim
with USPS.
Damaged Products or Incorrect Orders
If you receive a package with a damaged product, or if you believe
your order may have been processed incorrectly, please contact MiJoy
Naturals by email at info@mijoynaturals.com within 5 days of delivery.
Back ordered items
MiJoy Naturals strives to have all of our readily available for
immediate shipment. Due to our products being made fresh in small
batches, there is a possibility that products may go on back order.  If a
product is back ordered, the product title will display this clearly. 
Upon restock of all items in your order, the full order will immediately
be shipped. 
BOMB Product!!
This scalp re-fresh is amazing! I have a very dry/ itchy scalp and this product delivered exactly what it claimed it would do. I used it 2x a week and it left my scalp clean and moisturized. To top it off my roots were extremely soft, which I absolutely love. A little does go a long way with this product and it dries like nothing is there. Overall, great product and I definitely will keep this in my stash.
Great Product
This product does absolutely stop the itching. I do use quite a bit of it about every other day on my locs but it is very light weight and non greasy it will absorb into scalp very well. The smell is subtle and natural, once applied to scalp wait at least 2 mins for the itching to dissipate. We'll be purchasing many more bottles!
Love it!
OMG this feels sooooo good on my scalp! Smells kind of minty. I love that I only need to use a little and it spreads a lot. It dries like nothing is on my scalp and finally my head doesn't feel yuk after working out. Thank you for this product, I love love love it!